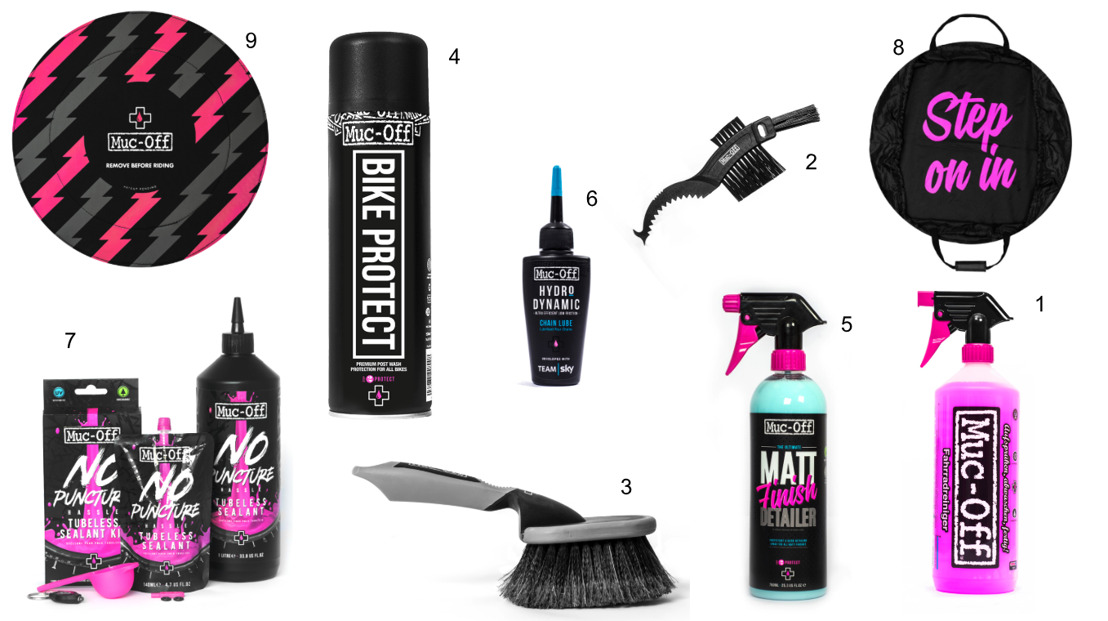 Highlights From Muc-Off's Bicycle Product Range
Clean, Protect and Lube Your Ride With Muc-Off
1 Nano Tech Bike Cleaner | from $14.99 | Muc-Off cuts through grime quicker than you can say "OMG!" regardless of the weather or riding conditions. It's the most effective cleaner out there, and it doesn't even need any of those nasty, dangerous acids or chemicals. In fact, this perfectly pink cleaner is biodegradable, free from acids, CFC's and solvents so you can clean away with a guilt-free conscience.
2 Claw Brush | $5.99 | The Muc-Off Claw Brush boasts a high quality construction with three brush heads that feature tough nylon bristles and an integral scraper for mud de-clogging. It's perfect for cleaning your bike's chain, cassette, derailleurs and sprockets.
3 Soft Washing Brush | $9.99 | The Soft Washing Brush has a sintered bristle compound designed to clean your bike frame and components while caring for delicate finishes. A clean bike is a happy bike, and the soft washing brush makes it easy to get clean.
4 Bike Protect Spray | $14.99 | Bike Protect is the ultimate liquid bicycle protection. Preserve and freshen your bike with Bike Protect's incredible water dispersing action! It's a perfect 'all over', after-wash corrosion inhibitor due to its extremely high oil content, which creates the finest bike protection spray on the market. It drives out moisture and leaves a sparkling, non-sticky protective layer on your frame, drive chain, metal parts and paintwork. It's ideal to spray onto your chain to drive out moisture before you apply any of our brilliant Muc-Off chain lubes. Bike Protect doesn't just disperse water after you've given your bike a good clean, it also prevents dirt adhesion between washes and reduces future maintenance time as well as helping reduce friction, wear and energy consumption.
5 Matte Finish Detailer | $24.99 | Fingerprints and glossy marks are now a thing of the past. Matt Finish Detailer is the newest member of the bike protection range and has been specifically developed for satin matt paints, matt finishes and matt vinyl wraps. The premium-grade formula will leave any matt surface with a streak and gloss-free protective finish that reduces dirt adhesion.
6 Hydrodynamic Chain Lube | $24.99 | Team Sky Hydrodynamic Chain Lube is the Ultimate in bicycle chain lubricant technology. If you are looking for the most efficient chain lubricant formula for long distances and/or the harshest of weather conditions, look no further.
7 No Puncture Hassle Tubeless Sealant | from $9.99 | Developed with the world's top downhillers and pro peloton teams, to give you the finest tire sealant available. The cutting-edge microfibre molecules fill the bigger holes and tears, whilst the advanced latex forms a strong seal instantly. Our formula also contains a unique UV detection system that highlights any punctures you haven't seen during your ride.
8 Grime Bag | $39.99 | Built for cyclists, athletes and adventurers alike, introducing the new ground-breaking Grime Bag. A portable changing room that can be used on the go for changing clothes before or after a long muddy ride.Lightweight, durable and easily transportable, the Grime Bag is made from heavy duty coated polyester, designed to keep moisture and dirt where you want it – away from the inside of your car or clean kit.
9 Disc Brake Covers | $29.99 | Finally, the solution to protecting your disc brakes during maintenance or transit is here! Our Patent pending design makes life easy, they are fast and easy to use and help to ensure you won't have protectant or lube overspray on your discs.