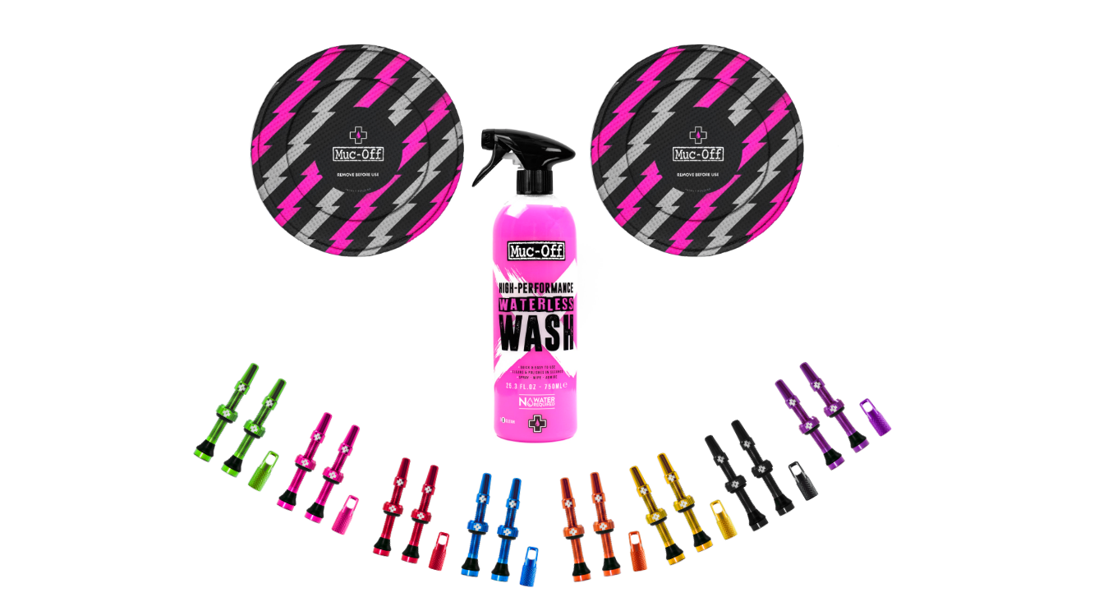 Make Your Bike Smile With Muc-Off
Recent Releases From the Masters of Bike Care
Waterless Wash | $17.99 | Waterless Wash is an advanced, spray which cleans and polishes without the need for water. Developed to clean in seconds and leave a streak-free shine, this non-sticky, powder free, multi-use formula reduces water usage and cleans surfaces in seconds. The innovative formula is designed to encapsulate any surface dirt and grime, which can simply be wiped away using a microfiber cloth without the risk of scratching.
Tubeless Valves | $27.99 | Sick of leaky tubeless valves? Muc-Off premium tubeless valves answer the hassle of finding your tire flat every time you go to ride. The 6061 Aluminum machined valves have an alloy cap and a 4mm Allen Key fitting at the base for easy installation / removal. The include a spare cap with valve core remover and three different grommets for a snug fit in a variety of rims. Available in 8 colors to coordinate with any bike.
Disc Brake Covers | $29.99/pr | Protect your brakes during travel and heavy cleaning with Rotor Covers. Bikes going places on the back of cars are susceptible to brake contamination from road grime, and even the most judicious application of spray cleaners and lubes can affect brake performance. Cover your brakes when your bike in on the go or in the cleaning stand for maximum power and modulation, and save yourself from having to buy new rotors or pads due to contamination!