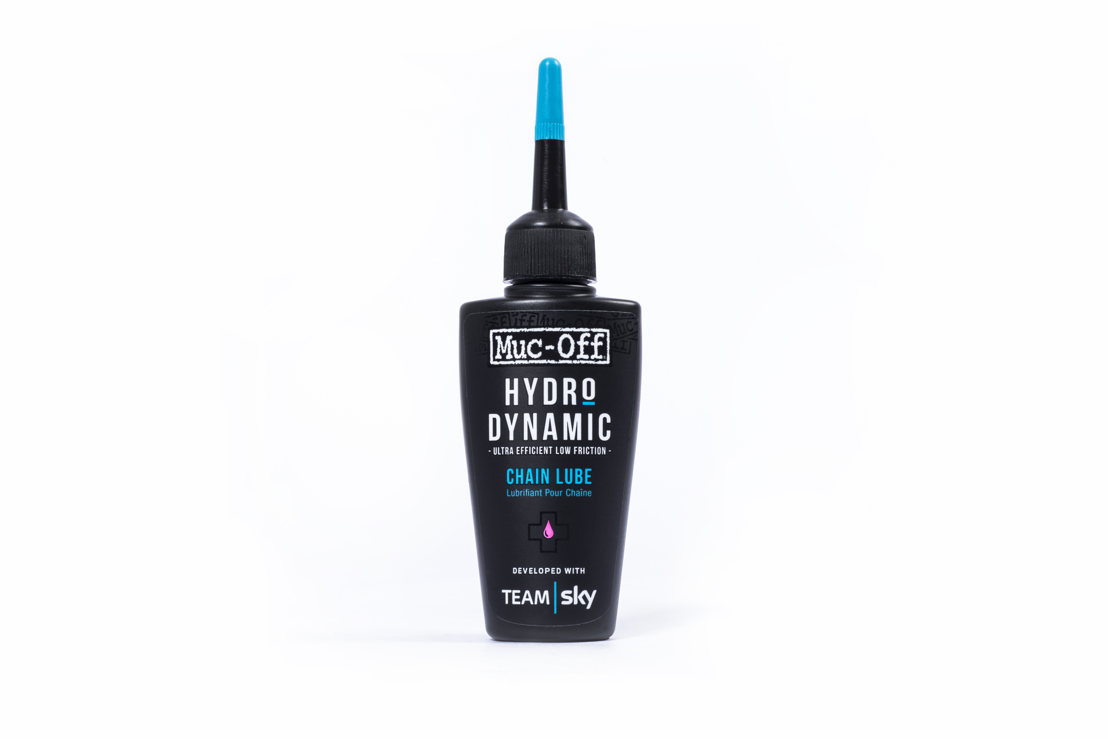 Muc-Off Team Sky Hydrodynamic Lube
Hand-Blended in Small Batches for Ultimate Performance
Muc-Off Hydrodynamic lube is formulated to lubricate your chain over long distances and during the harshest weather conditions. 'Hydrodynamic' - the result of a dedication to innovation by both Team Sky and Muc-Off.
Background
Born in 2014 and baptized at the Tour de France with the worst weather conditions seen in years, Hydrodynamic Chain Lube is the first to be created by the Muc-Off research team in collaboration with Team Sky.
Development
Team Sky set Muc-Off challenging and ambitious goals - "We want the fastest and most efficient lubes, that last longer than anything else out there. We are an evidence-based team, so the advantages need to be quantifiable." Muc-Off thrives on challenges, so they designed and built a Chain Lube Optimization Dyno (aka C.L.O.D) that could provide quantifiable data– a world first for a bicycle chain lube manufacturer.
"We can now test and analyze all bike lubricants in micro detail, giving us an advantage over all our competitors in formulation development. After over 15 formulas and hundreds of hours of lab and real world testing, we arrived at our newest breakthrough - 'Hydrodynamic'. We can now prove with cold hard data that we are leading the way in bicycle lubricant development. 'It's the first lube we know of with meaningful data behind it that proves it's performance and low friction co-efficient in numbers," states Muc-Off MD (Mad Developer) Alex Trimnell. Hand blended in the UK, Hydrodynamic uses the finest ingredients to create a sophisticated, synergistic blend of esters coupled with aerospace quality based oil lubrication, before packing it with ground-breaking extreme pressure additives. All this means it's possible to create a high strength film forming lubricant, which prevents metal-to-metal contact to ensure peak performance, even under the most extreme workloads that a pro peloton can throw at it. Each handmade batch takes hours of painstaking work to deliver a highly advanced bicycle chain lubricant, reaching previously unobtainable levels of lubrication and protection. Muc-Off Hydrodynamic lube is unique as it's created using cutting edge intensive research and development, using Muc-Off's very own Chain Lube Optimisation Dynamometer housed within the companies R&D lab in Dorset.
This machine has the ability to test any lubricant and drive chain set up to provide quantitative data, efficiency and performance durability, ensuring Muc-Off stays ahead of competitors with the perfect formula. Muc-Off's groundbreaking formula strikes the perfect balance between chain lube efficiency and resistance to environmental conditions. This means you will have the ultimate protection with an incredibly low friction coefficient, key for pro road racing at the highest level.