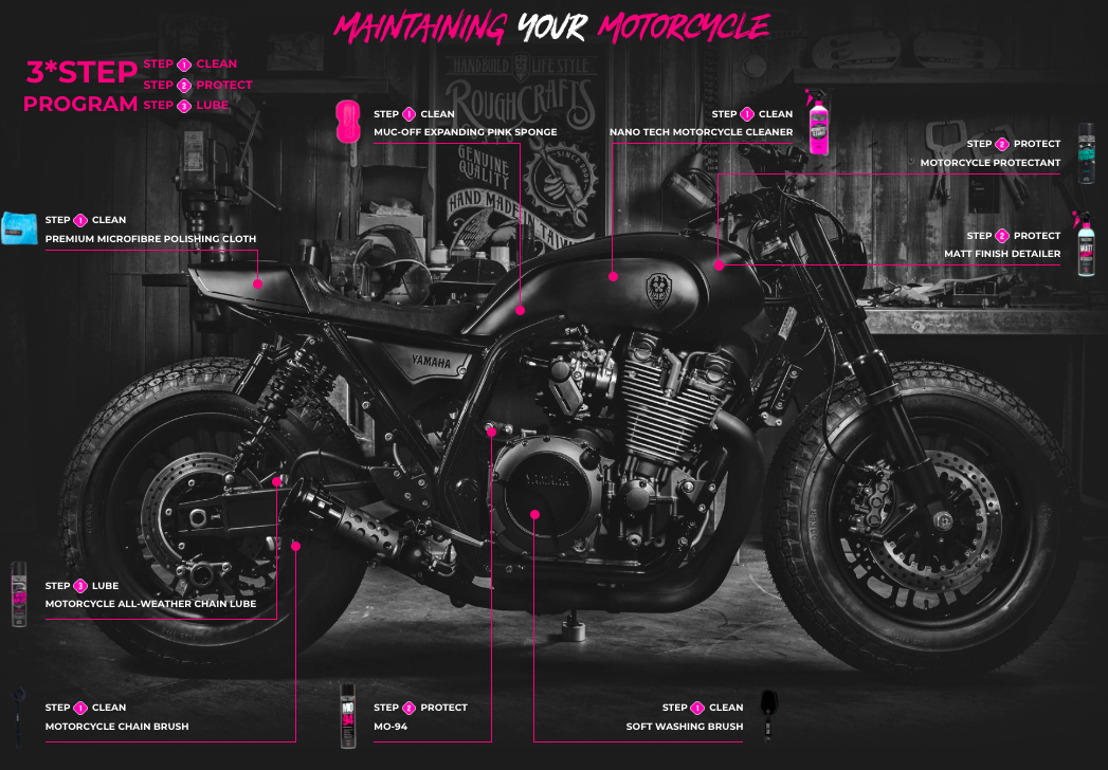 The Muc-Off Mantra Of Motorcycle Maintenance; Clean, Protect, and Lube
A full cleaning kit that includes everything to keep your ride and gear clean + protected!
STEP 1: CLEAN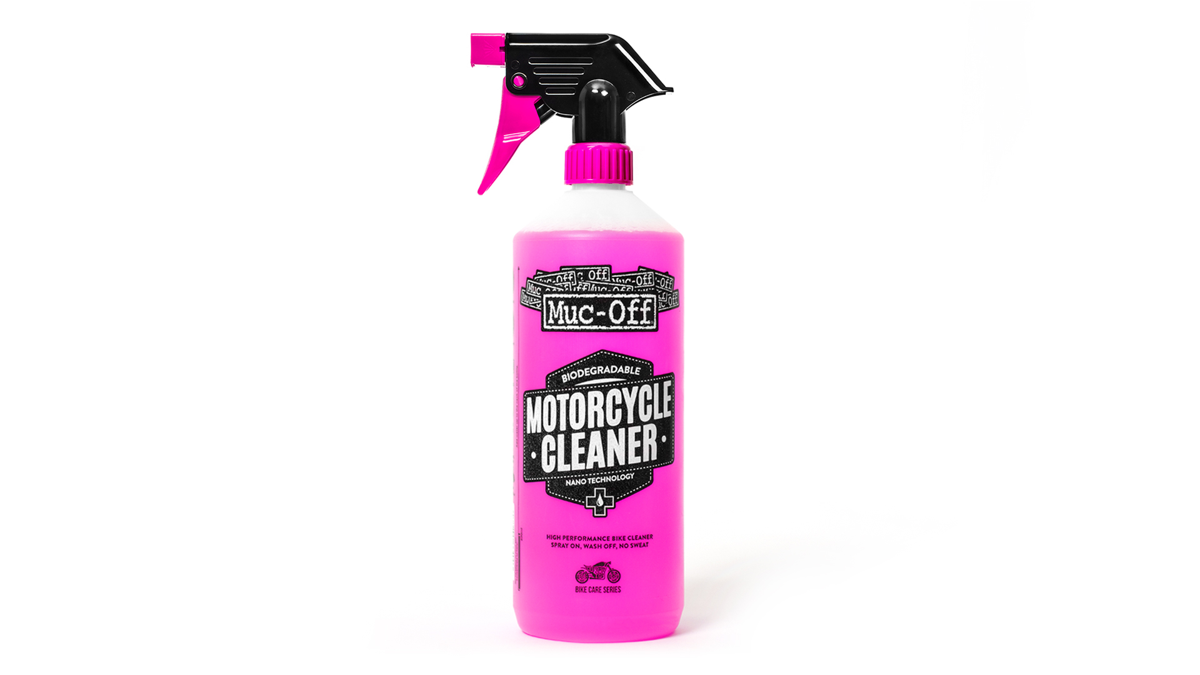 Muc-Off uses a state-of-the-art Nano Tech formula, the Muc-Off Nano Tech Motorcycle Cleaner cuts through grime quick regardless of the weather or riding conditions. This classic pink bike cleaner has incredible cleaning power because it contains their revolutionary Nano Technology that breaks down dirt and grime on microscopic levels, while also caring for your motorbike's delicate finish.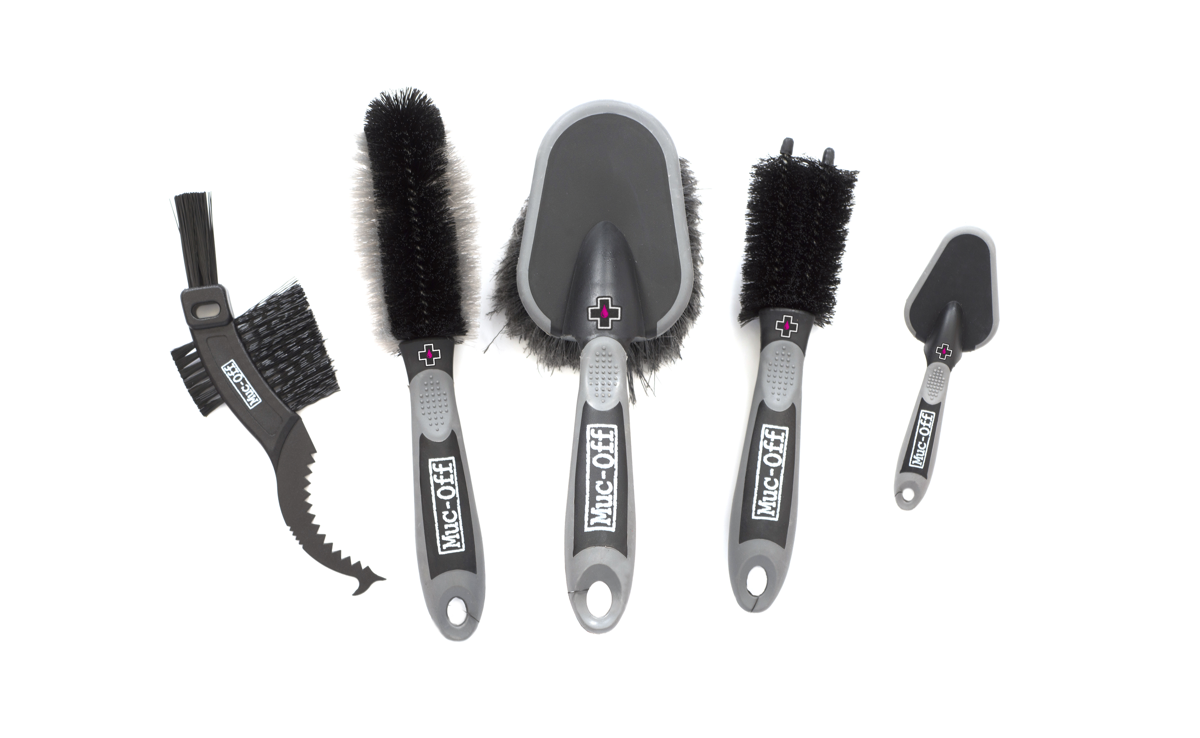 Featuring all five Muc-Off brushes in a handy storage bag: The Soft Washing Brush sintered bristle compound is designed to clean your frame and components while caring for delicate finishes, the Detailing Brush is ideal for reaching hard-to-shift dirt on sprockets, hubs and other tight areas such as suspension mounts or fork crowns, the Wheel & Component Brush is shaped and contoured specifically to clean rims and spokes with ease, and the Two Prong Brush is ideal for reaching hard-to-shift dirt on spokes, discs, shocks, cranks, linkages and pedals. All featuring a tough, impact resistant handle that won't slip in extreme conditions. Last but not least, the Claw Brush features high quality construction with triple brush heads with tough nylon bristles and an integral scrapper for mud de-clogging.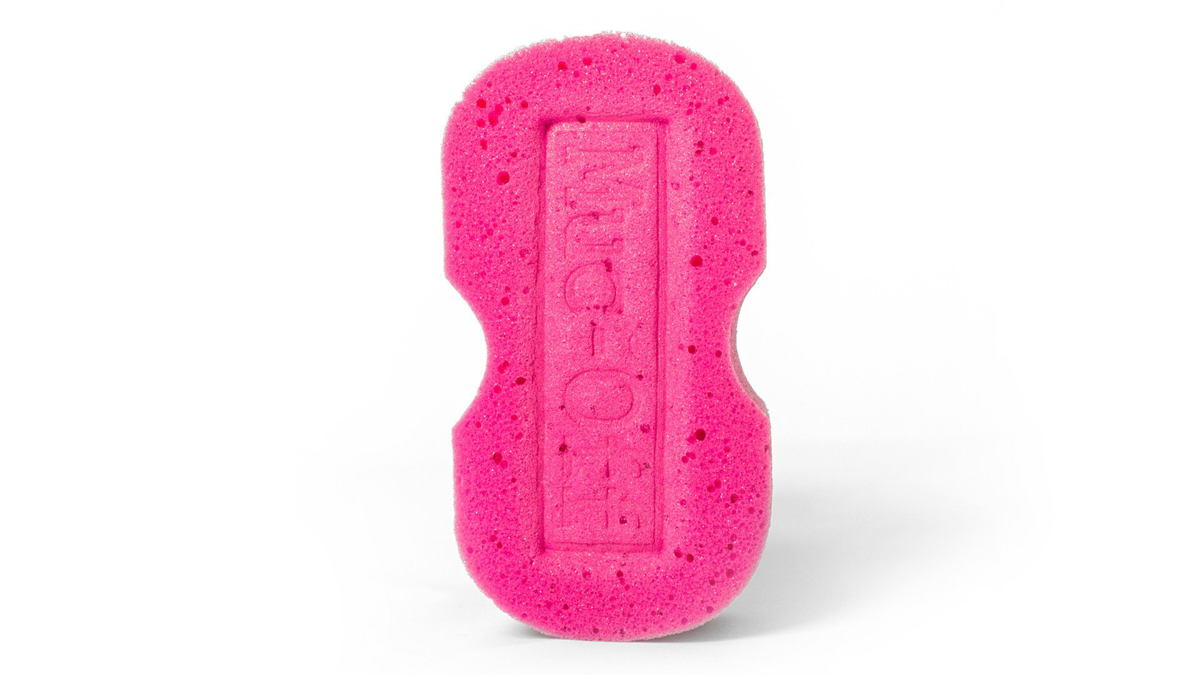 Muc-Off's Microcell expanding sponge is contoured to an ergonomic shape for maximum comfort and ease of use. We've also vacuum packed it to take up less space and to use less packaging materials. Don't worry though, once you've opened our perfectly pink sponge, it expands into an easy to use, bike and wheel friendly size!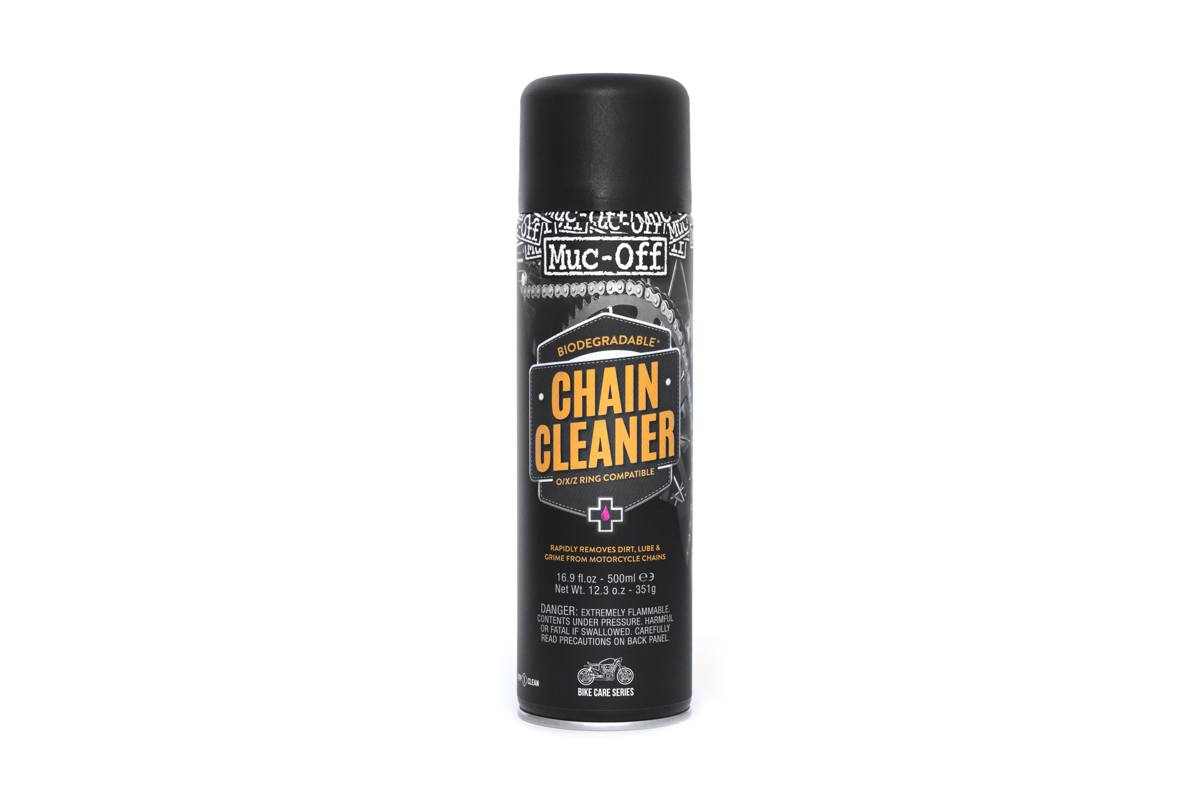 Muc-Off Biodegradable Motorcycle Chain Cleaner has been specifically formulated to quickly and safely remove dirt, lube and heavy chain grime using advanced solvents. Its unique formula breaks down oil and grease to leave the entire chain sparkling clean and contaminant free.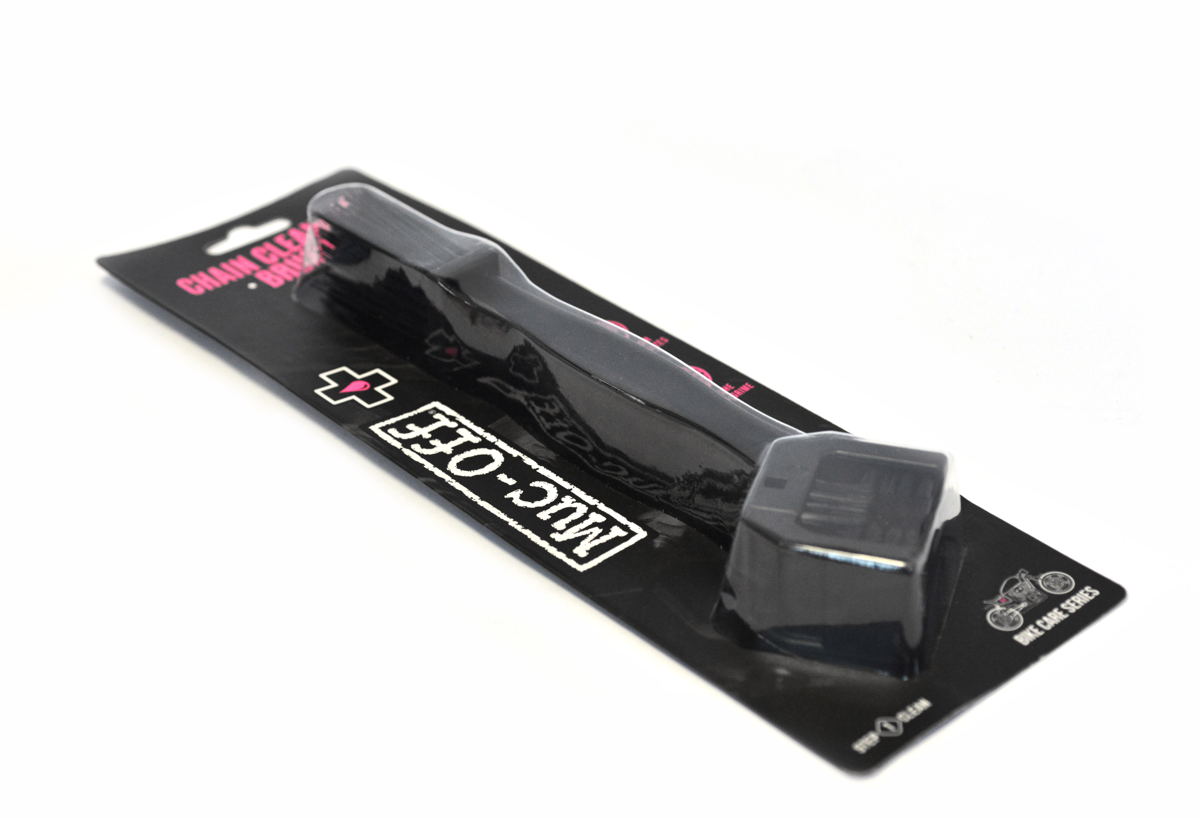 The Muc-Off Chain Brush is an essential tool for keeping your motorcycle chain spotless and running smooth. The multi-faceted, ergonomically-shaped brush is designed to clean all sides of the chain at the same time and in between links and rollers, minimising the need for future repair or replacement. For the best results use in conjunction with Muc-Off Chain Cleaner. After use, apply Muc-Off chain lube for maximum results.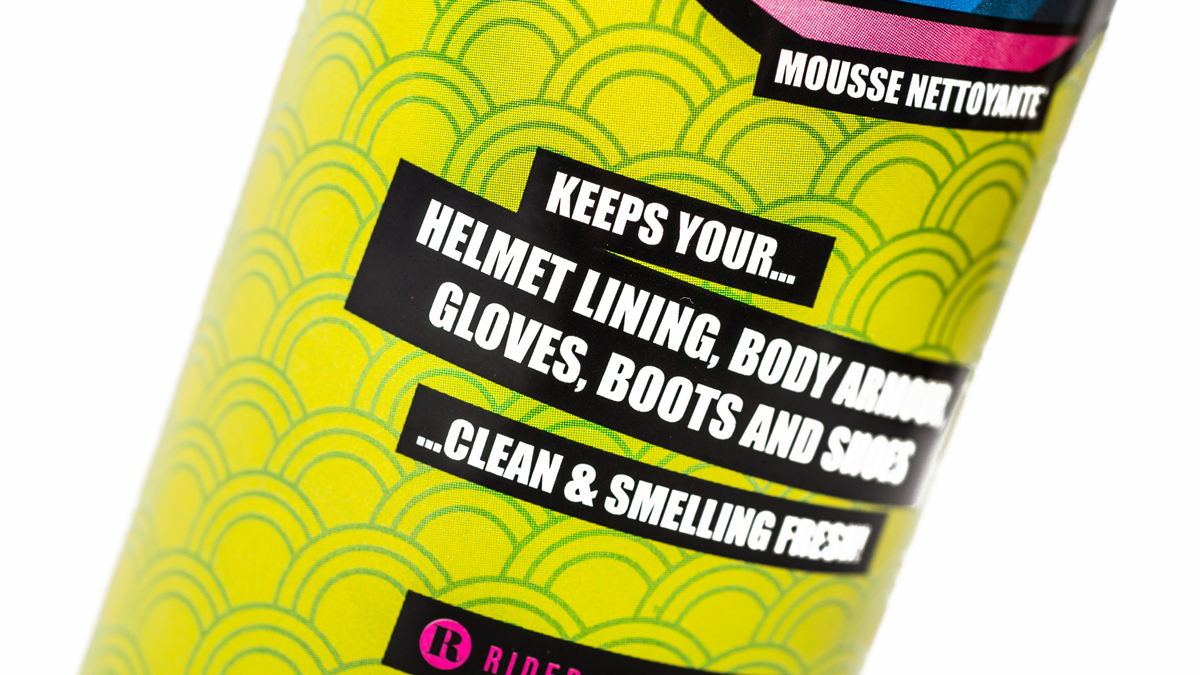 Muc-Off Foam Fresh is a highly effective, easy to use foam cleaner which is ideal for helmet liners or any soft material which comes into contact with the rider. Foam Fresh has an instant foaming action, which gently agitates dirt and grime away from the surface leaving a fresh Citric Burst fragrance.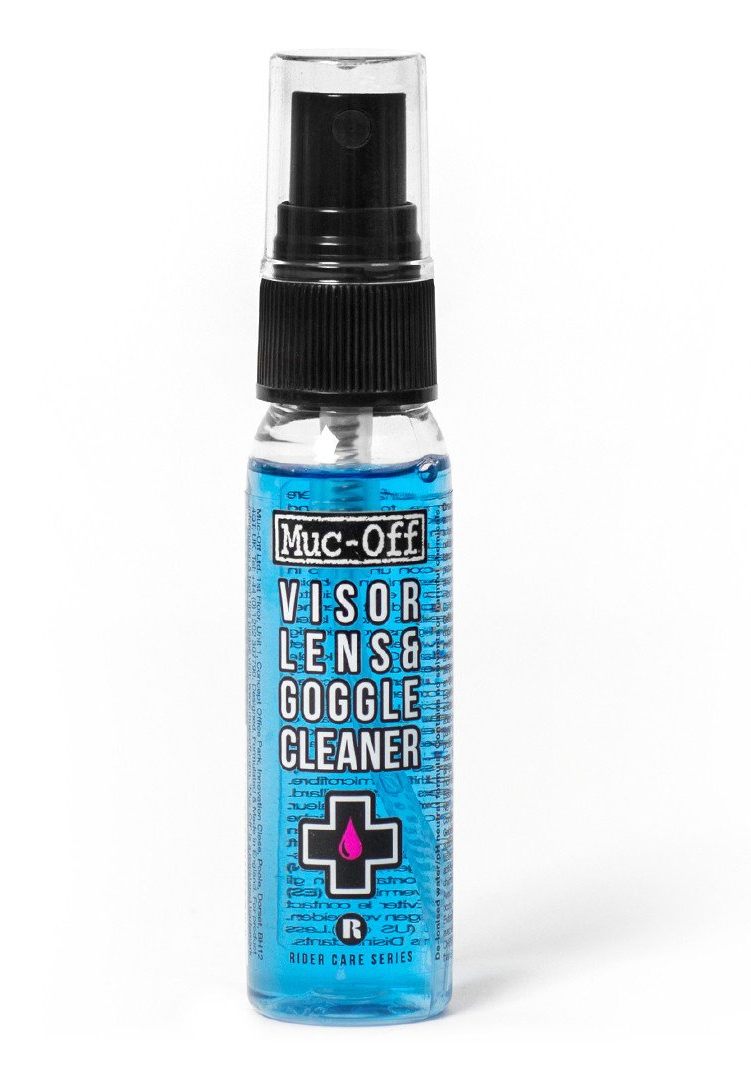 Visor, Lens & Goggle Cleaner quickly and safely removes dirt, dust, grime, snow, sweat and oily residue from all helmets, eyewear and goggles. Its been formulated using de-ionised water as recommended by many helmet manufacturers and it's safe to use on all lens materials including polycarbonate!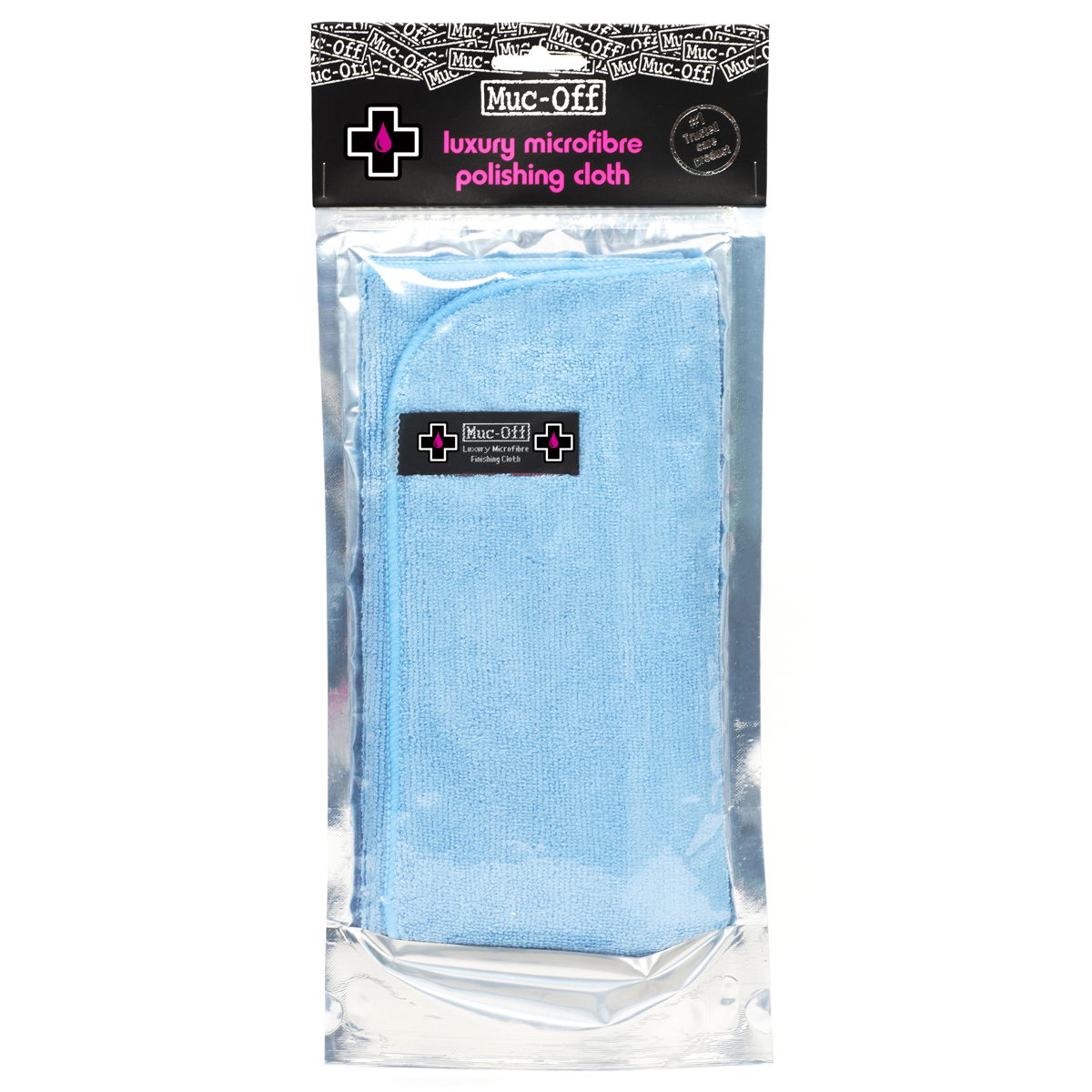 Our Premium Microfibre cloths aren't just cloths – they're a gateway to effortless cleaning, drying and polishing power at your fingertips! Muc-Off Microfibre cloths contain an amazing 'split-fibre' technology, that vastly increases surface area absorbency to easily eliminate smears and blemishes. As well as this, our microfibre's trap dirt deep in the pile of the cloth – which helps to avoid the chance of swirling, which could ultimately lead to damaged paintwork. Because our cloths are made up of very small fibres, you'll be cleaning at a much deeper level, meaning that whether it's interiors or exteriors, bikes or cars, you can be sure you are removing the dirt and grime!
STEP 2: PROTECT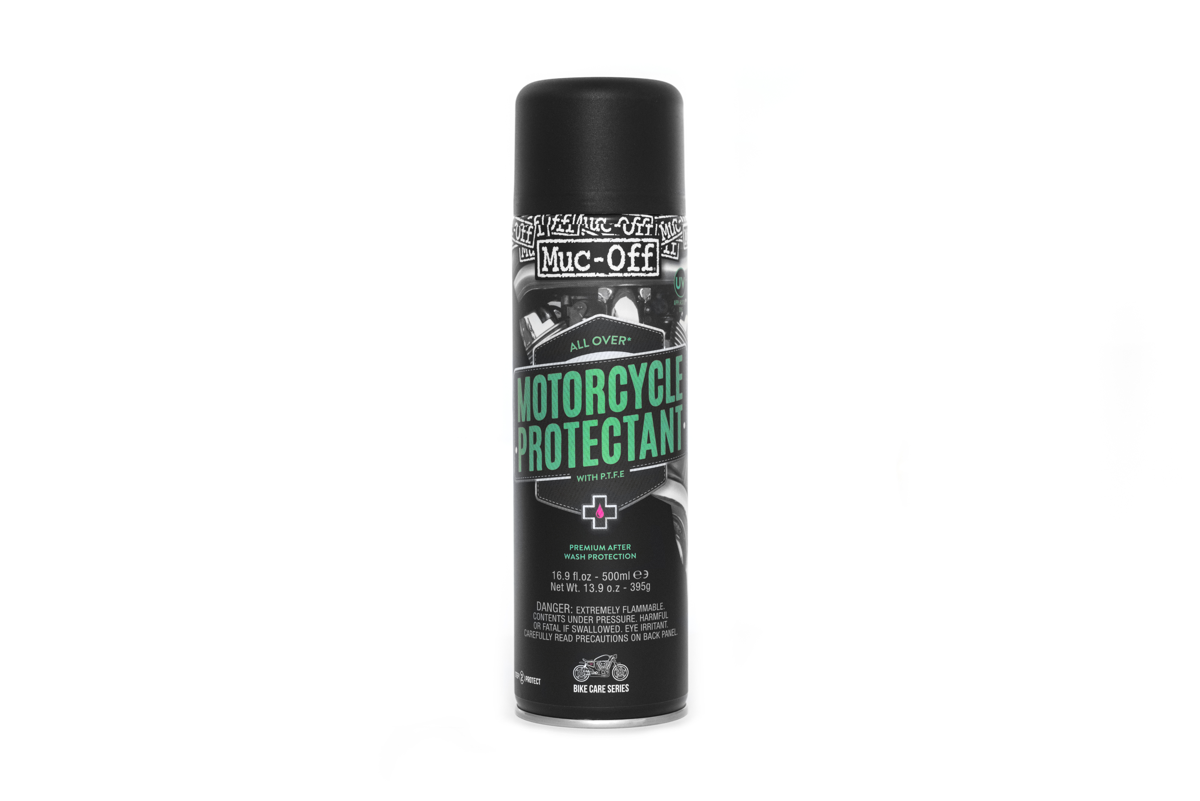 The all-round motorcycle protectant for your motorbike. The high concentration of P.T.F.E helps prevent dirt adhesion between washes. Motorcycle Protectant has been developed so it can be used all over your motorbike, and has an after wash corrosion inhibitor which drives out moisture and leaves a non-sticky protective layer smelling of fresh Vanilla.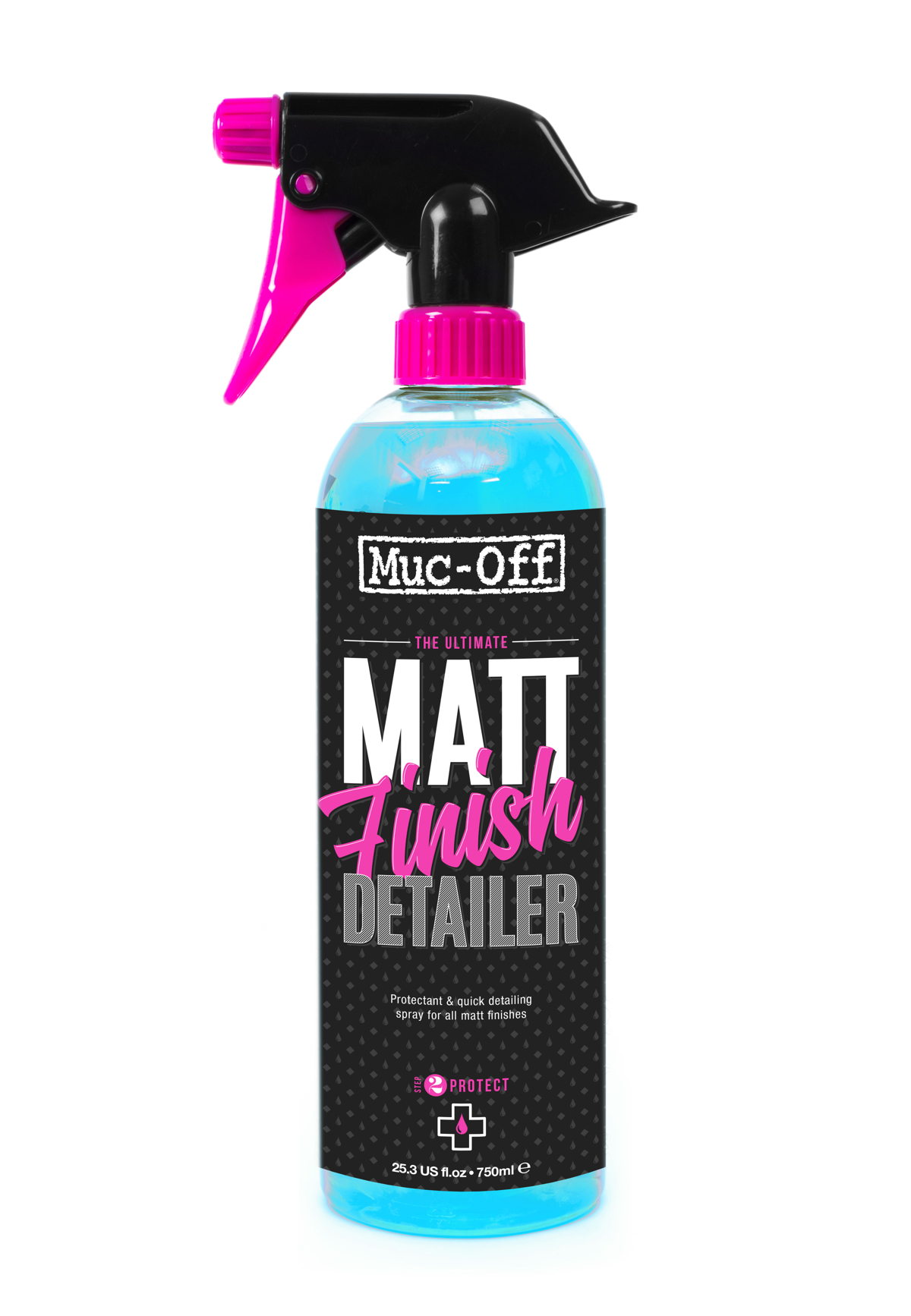 Fingerprints and glossy marks are now a thing of the past. Matt Finish Detailer is the newest member of the bike protection range and has been specifically developed for satin matt paints, matt finishes and matt vinyl wraps. The premium-grade formula will leave any matt surface with a streak and gloss-free protective finish that reduces dirt adhesion.
Muc-Off Anti-Fog Treatment uses cutting edge moisture absorption technology with an anti-mist formula to create a transparent, micro-thin coating so your ride is never cut short by foggy goggles! Our Anti-Fog Treatment lasts up to five days, and if you spray on the outside of your swim goggles or sports glasses, the anti-mist formula will help rain bead off to make your ride that much safer!
STEP 3: LUBE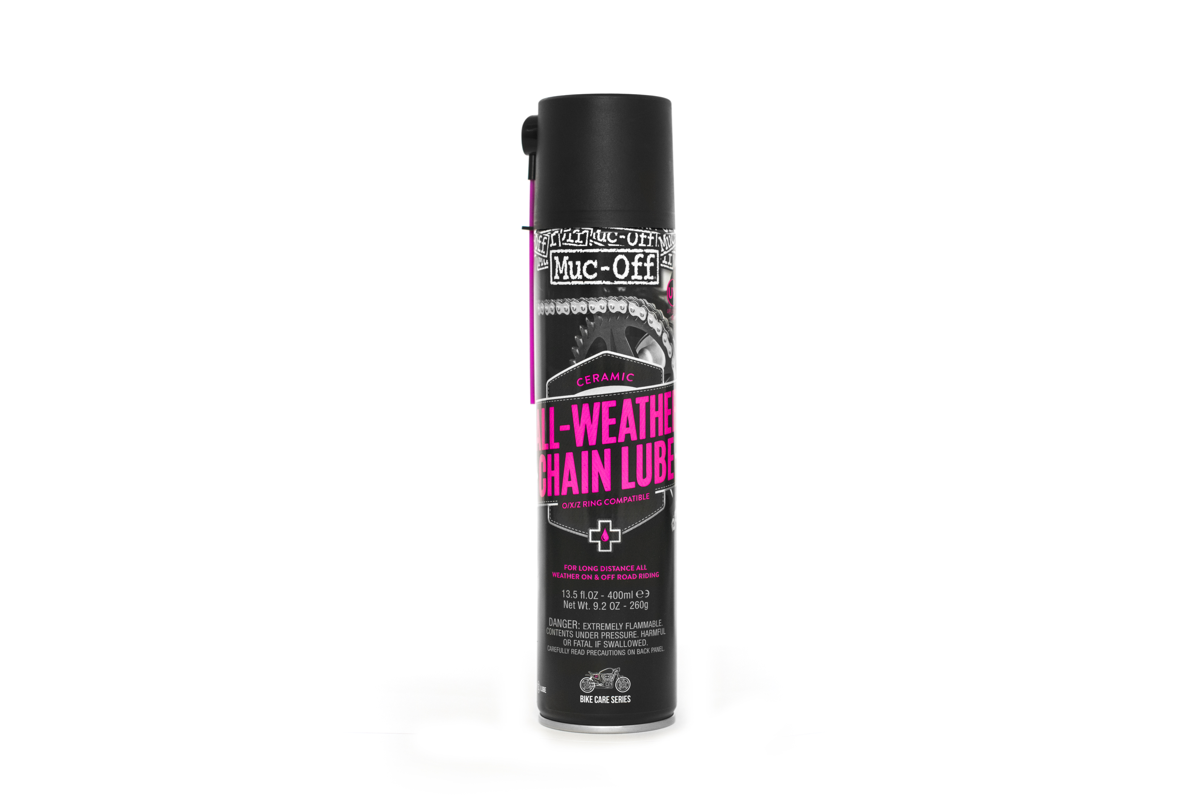 Muc-Off Ceramic Chain Lube is the first of its kind and is set to revolutionise chain efficiency and performance for all motorcycles covering longer distances and is ideal for tourers or commuters as you can go far longer between reapplication intervals. Our unique water repellent, ceramic, non-fling formula penetrates deep into the chain link.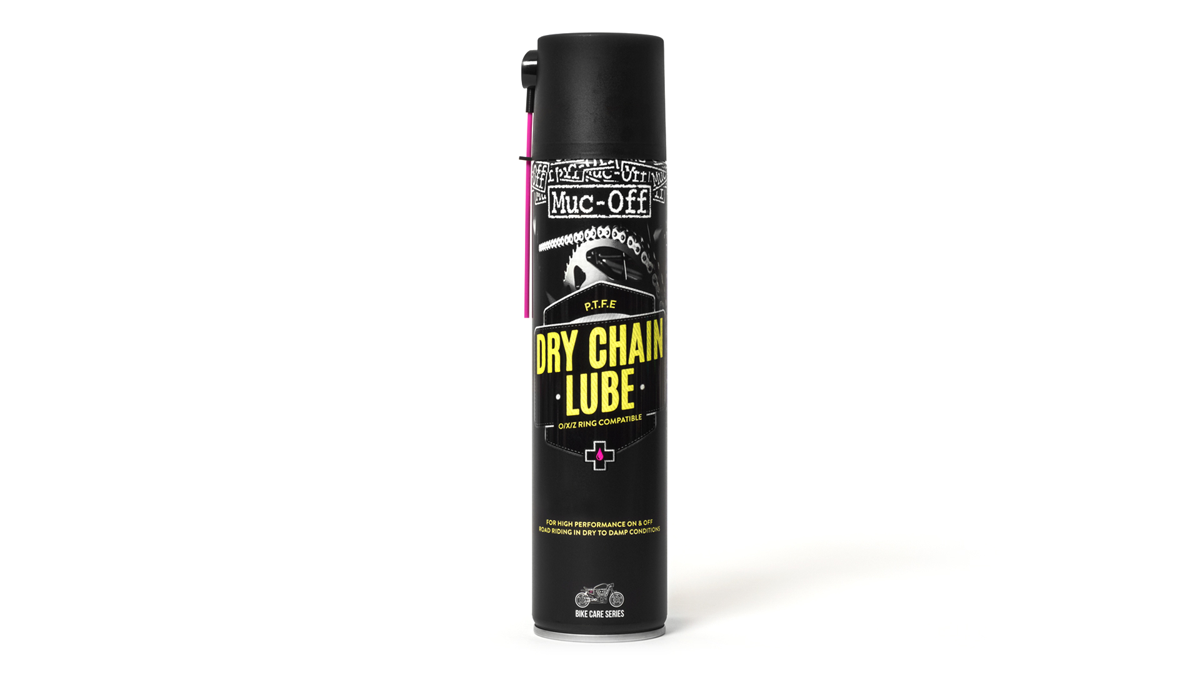 Muc-Off Dry PTFE Chain Lube is formulated to hold up to the extreme pressures that are applied to a Motorcycles drive chain. It's a highly versatile, Dry weather chain lubricant that has superior penetrative qualities ensuring that every part of the chain link is lubricated. Our advanced 'Dry Formula' creates a clean, durable and protective layer that inhibits rust and corrosion.
Muc-Off's flagship best-seller Silicon Shine heads stateside to deliver a star-spangled sparkle to bikes and motorcycles from the Big Apple right across to Cali-forn-i-a. Oh say can you see, that factory fresh look? As well as making your trusty steed silky smooth, the silicon formula protects all plastic, rubber, metal and carbon surfaces by reducing dirt adhesion keeping it looking and working like new for longer.